Summary
In recent quarters, Hello Group has been fighting to cling on to its dominant market-leading position.
Revenues were declining, but the downward trend has come to a stop in Q3; going forward, there are four drivers of moderate growth.
With a P/E ratio of 6.5 and an EV/EBIT multiple of 1.8, the company is rather cheaply valued.
Also, the company looks safe with a huge negative net-debt position.
With a $300M share repurchase program and a $0.64 dividend in April, the management has proven that it is much more shareholder-friendly than the average Chinese company.
I'm going to start this off by sharing a private detail about myself: Hello Group's Tantan actually played an important part in my life as my wife and I met via Tantan here in Shanghai. Besides my positive experience with the app, I also believe that the MOMO stock offers a good combination of value, safety (great balance sheet and stable business model), and a shareholder-friendly management. Below I will take a look at MOMO's business, analyze its financials and also discuss the two main risks: intensifying competition as well as the widely known but often misunderstood regulatory/political factors.
Please note that if not stated differently, all numbers that I use are in RMB and not in USD, as the exchange rate makes historical comparisons inaccurate.
Business overview
The apps: Momo & Tantan
Over the last decade, two apps have dominated the Chinese online dating market: Momo and Tantan. Similar to Tinder in the west, almost anybody below the age of 40 knows both of these apps. What these two apps have in common is their parent company The Hello Group. This gives the company a very strong market position that is almost unrivaled.
While online competitors are far smaller than MOMO, the biggest "competitor" worth mentioning is offline matchmakers. Interestingly, in China, these offline matchmakers are very popular. Again, telling from personal experience, just a few months ago my sister-in-law met her now-fiancé via a matchmaker. Offline solutions are much more trusted than these apps and don't have any "hookup vibes" associated with them, and therefore customers are willing to spend thousands of dollars on them. Nevertheless, the online market clearly belongs to MOMO, and this example also shows how much young people are willing to spend on finding a partner.
Previously the company was called Momo until it acquired Tantan for $600M in 2018. Back then Momo had much higher revenues and, contrary to Tantan, was actually profitable. Until today, nothing has changed. Momo is still the company's cash cow and is responsible for about 80% of the revenue, while Tantan is losing money every single quarter.
The CEO has put in place a new management for Tantan just this October. The opportunity is clear: emulating the success of Momo and having two profitable businesses instead of one that is keeping the other one financially afloat.
To me, the strategy of the company sounds very convincing. In the beginning, the company will focus on Tantan's user growth, by reducing their paywalls (and also getting rid of the image of having too many paywalls). In the short term, this will lead to lower revenues and lower profitability. However once Tantan also achieves a larger scale, it will generate a bigger share from similar revenues sources as Momo. Instead of charging for VIP memberships, Tantan will generate the majority of its revenues from live streaming and selected value-added services (below you will find more information on the monetization of the apps).
The reason why I find the strategy very convincing is because the Momo App already has proven that this approach works. Also, while Tantan's user growth was below the management's target, the number of monthly active users still increased by 8% from Q2 to Q3. With the new management finally, in place, more user growth can be expected to come over the next quarters.
Furthermore, the growth is of high quality. Generally, dating apps are suffering from a lack of female users (two-thirds to three-fourths of users on dating apps are male), which makes female users much more strategically valuable to these apps. Therefore MOMO's management was happy to share that 50% of the 8% user growth was female. Also, the number of fake accounts declined.
Monetization
The monetization of Momo and Tantan can be split up into two revenues streams: Streaming and Dating.
Over the years, streaming has become the core of the company and is now responsible for around 60% of the company's revenues. Almost the entirety of this 60% is generated on the Momo app. The company earns money either by advertising or by gifts that users can purchase for streamers (=the hosts of the stream) that they follow. Even though Momo's streaming revenues are very stable, massive future growth does not seem very likely in this area, which even CEO Wang Li stated in the second quarter's earnings call.
The second leg of the company, dating + related value-added services, has been growing faster than streaming in recent quarters and looks quite promising (26% year-on-year growth for non-Tantan dating revenues). This includes things like VIP memberships, digital gifts for other users, and services like video matchmaking. MOMO is very data-driven, and constantly evaluates the effects of new value-added services. The high user numbers support that approach and therefore enable the company to find the most profitable value-added services for its apps.
Financials & Valuation
When looking through the numbers below, keep the company's market cap of only RMB 11.5B in mind.
Revenues and growth
The company's revenues have been slowly declining over the last couple of quarters. However the decline has slowed down and the company's revenues will likely reach their bottom in Q4, for which it expects revenues to be between RMB 3.6B and RMB 3.75B (-3% growth).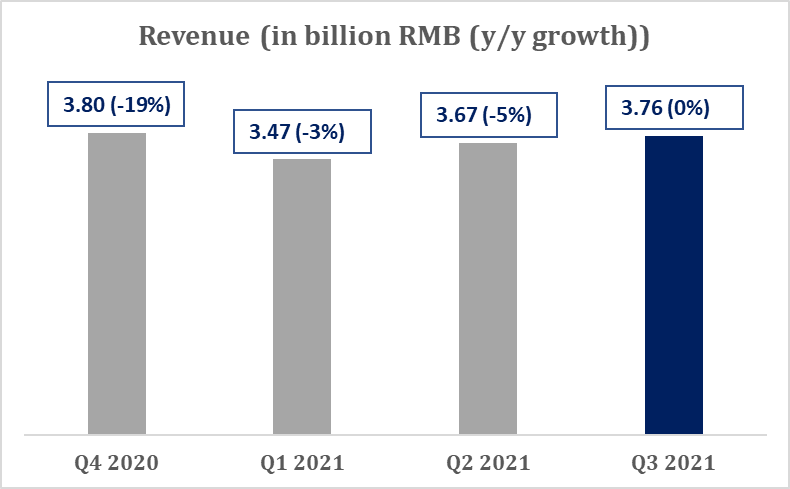 Source: Author of this article
The two main reasons for the decline were increasing competition as well as the mentioned strategy shift for Tantan.
Going forward I do not expect massive growth, but I also do not expect the downward trend to continue. I believe that the company will be able to grow slowly over the next years. The main business might shrink a bit due to increasing competition, but there are four factors that will more than compensate for the lost revenues in the medium term.
Obviously if successful, Tantan's new strategy could have a huge impact on the company's financials. Tantan doesn't even have to become profitable, but not generating a loss would already be a big improvement over the status quo (RMB 120M loss in Q3).
Furthermore, without any execution risks involved, the company will certainly benefit from the general growth of China and the rising income of the average user.
And finally, with good execution, the company might be able to increase its revenues by expanding its business in other Asian countries as well as profiting from additionally launched stand-alone apps in China. While I personally am not that confident in the international success of Tantan or MOMO, Tantan has already shown some promise in recent months, as it even surpassed Tinder in Indonesia. Also commercializing their new apps will certainly be a challenge, but the management recently mentioned that some of the apps already show commercial success and that it plans to have ten profitable stand-alone niche apps within 3-5 years. Even though I don't believe in a big contribution from either of the two business opportunities, there certainly is still a chance that I am wrong. The company manages these ventures strictly on an ROI basis, and in the worst case, these efforts will lead to at least some degree of profitable growth.
Balance Sheet
The company is in the fortunate position of having built up a great balance sheet over the years. Currently, the company has RMB 9.3B of cash and short-term deposits as well as RMB 5.8B of long-term deposits.
On the other side, the company's total liabilities are RMB 7.5B. The main liability that the company has is its RMB 4.6B worth of convertible notes that it issued for the Tantan acquisition. These convertible notes have a strike price of $65 per ADR and are therefore almost impossible to be exercised. They are due in 2025 and have an annual interest rate of only 1.25%. Due to the large gap between the strike price and the market price, I view these notes as a low-interest debt position for the company.
I conservatively view all of the company's liabilities as debt, and therefore for me, the company's net debt is RMB -7.6B (7.5B – 9.3B – 5.8B).
Profitability & use of profits
Profitability has also decreased since the Tantan acquisition. In 2021 the company will generate roughly RMB 2.2B in EBIT and RMB 1.75B in net income. These earnings are of high quality as the company's free cash flow is similar or even a little bit higher than the net income.
MOMO is one of the few US-listed Chinese companies that return these cash flows to its shareholders. In April 2021 the company announced a special dividend of $0.64 per ADR, which was slightly less than 50% of the company's net income of 2020. Moreover, the company has initiated a $300M (RMB 1.9B) buyback plan for 2021. While the company didn't finish their complete buyback plan they still spent $180M of these $300M to buy back over 14M ADRs. I expect more to follow.
This gives me great confidence that the company's management has its shareholders in mind and that holding the share will be quite comfortable even in a falling market, as the company will likely continue to buy back shares at low prices and possibly pay out a healthy dividend.
Current valuation
The company is currently trading at a value of RMB 11.5B. An EBIT of RMB 2.2B, a net income/free cash flow of RMB 1.75B, and a negative net debt position of RMB 7.6B clearly show that there is a considerable gap between the company's value and the price of the company's market cap.
While there are even cheaper US-listed Chinese firms, a P/E ratio of 6.5 and an EV/EBIT ratio of 1.8 are still on the cheaper end of this spectrum. Especially when we consider the shareholder-friendly management and the company's long and profitable history.
Risks
I believe that the risks of MOMO are lower than those of younger, smaller, and less profitable Chinese companies. However, MOMO still faces two main risks, which I will discuss below.
Political & regulatory risks
Obviously, the biggest risk of any Chinese company comes from its political environment. MOMO is affected in two ways.
If political relations between China and the US worsen, MOMO might need to follow DiDi and also delist from US stock exchanges. This might lead to some inconvenience for some shareholders, but usually, this is not really a big problem as the stock can still be traded over the counter as well as on foreign stock exchanges. For example, China mobile has delisted from the US at the beginning of the year, after which the stock price increased by 20% on the Hong Kong stock exchange. However, the variable interest structure and not having direct access to the company's assets is certainly a risk factor to consider. Therefore, before investing in a Chinese stock, investors should answer to themselves whether they are willing to take this risk or not. This should be your very first step in researching Chinese stocks. I personally think this risk is massively overblown, and am heavily invested in Chinese ADRs. If you as an investor think this risk is too big and not worth taking, then don't touch any Chinese company, as all of them have exactly the same risk attached.
Moreover, as MOMO has a very strong market position, it could also face similar problems as Alibaba, which became too powerful, leading to various regulatory and tax changes. However, I personally believe that MOMO will be better off than BABA, as its industry is significantly smaller than China's e-commerce market.
Competition
Just like in the US where more and more dating apps have emerged in the past years, also in China competitors are trying to grab a share in this profitable market.
Especially females are often not satisfied with Momo and Tantan and are therefore looking for alternatives – and there are many of them: Soul, TaQu(他趣), ZhiMu(积目), Uki, just to name a few. It is also possible to use Tinder, Bumble and OkCupid in the bigger cities, but the connection is often very bad, and these apps don't work on all phones.
That being said, I do think that Momo & Tantan have already won their huge market share and will keep their market share. By having the biggest user base and the most recognized brand, the company has a very deep moat to defend its market position.
Bottom line
I believe MOMO is a good investment opportunity for investors who are looking for opportunities to globally diversify their US-focused portfolios.
However, personally, I only invest in Chinese companies that have at least a 20% ROI (=P/E ratio of 5 or lower), a long track record, a great balance sheet, and a somewhat trustworthy management. MOMO ticks only three of these four boxes, as the P/E ratio is currently at 6.5. Should the downward trend of the stock price continue and reach $7 (=P/E ratio of 5), this company would quickly become a "strong-buy" instead of just a "buy" for me and I would likely initiate a position in MOMO. But for now, I am not willing to pull the trigger, as I believe there are even better Chinese stocks out there.
Author: EE Investing, Seeking Alpha