Summary
NIO shares continue to fall, making the stock incredibly undervalued.
The NIO day event gave us plenty to be excited about, with the launch of the ET5 and continued European expansion.
At this price, I think NIO's shares could triple in the next 2 years.
Thesis Summary
NIO Inc. has fallen to under $30/share in the last month, creating an outstanding buying opportunity. The stock has been dragged down with the overall market, despite posting good November deliveries and showing encouraging progress at the NIO Power Day. On top of that, the People's Bank of China may be ready to deliver a boost to its economy with a more dovish monetary policy. While there is some evidence that Western economies are weakening, NIO looks like a very enticing buy at this point.
Recent Price Action
NIO has fallen over 25% in the last month. Most stocks, especially growth stocks, have been hard hit these days, perhaps due to fears of monetary tightening by the Federal Reserve.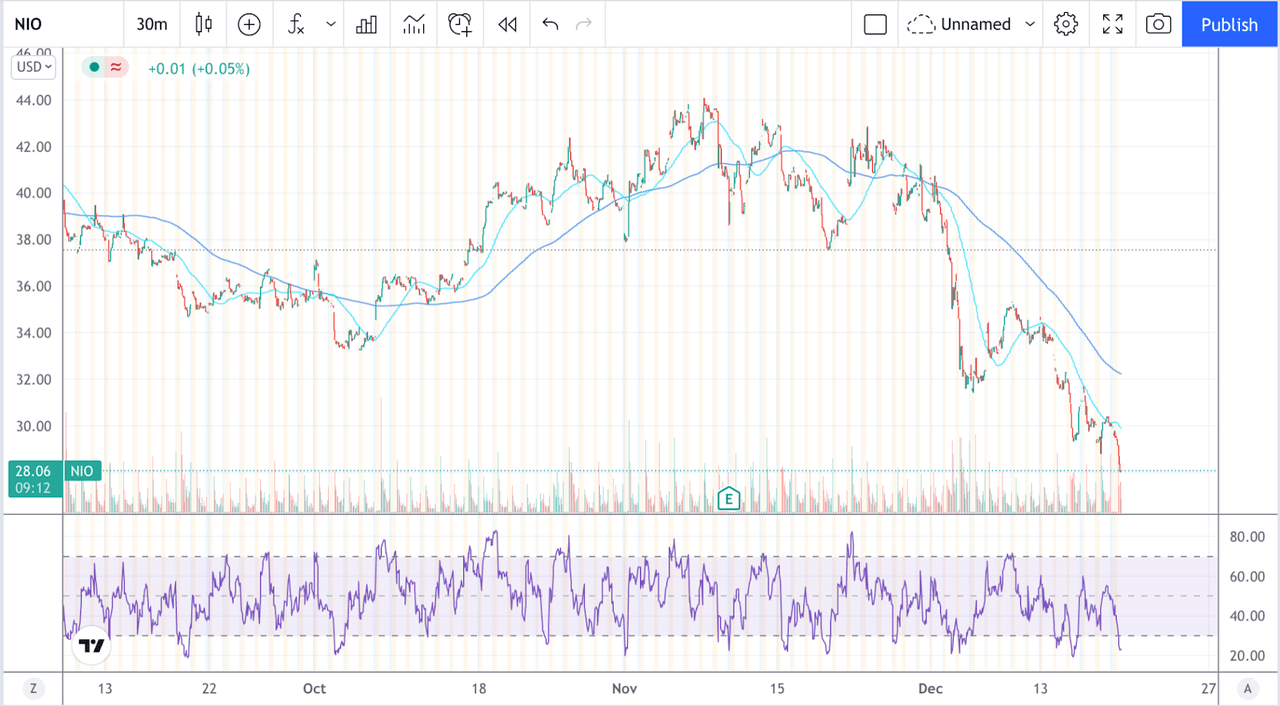 Source: Author's work
As we can see in the chart above, NIO has fallen well below its 50- and 200-day moving average. The Relative Strength Index is showing very oversold conditions. With the $30 support broken, this has now become the overhead resistance, and the next level of support could be as far down as $23.
With that said, the fundamental picture for NIO hasn't changed, and if anything it has improved, with analysts at Bank of America recently issuing a buy rating. NIO hosted its NIO day last week, and we certainly have plenty to look forward to in 2022.
NIO Day
Despite the recent declines, NIO has a clear growth plan for 2022, which it is so far executing well. At the NIO day, the company unveiled the ET5, a smart, mid-sized sedan with a 1000 km range priced at close to $41,000 battery swap.
The ET5 also represents a big step forward for the company's Autonomous Driving capabilities. The company announced that it would slowly introduce further Autonomous Driving capabilities which can be added for a subscription fee of $107 a month.
On another note, the ET5 also represents a big step towards moving closer to the car as an entertainment center.
The interior of the ET5 will come with PanoCinema, a panoramic digital cockpit featuring AR and VR tech. NIO partnered with an AR device company called NREAL to jointly develop AR glasses exclusive to NIO, which can project a 201-inch screen at six meters for drivers. You'll also notice an all-new 256-color curtain of ambient lighting and a Dolby Atmos 7.1.4 surround sound system.
Source: electrek.com
But the ET5 wasn't the only thing discussed, with concrete plans for the ET7 launch and production revealed. NIO expects to begin taking in orders by January and deliver the ET7 by March 28, 2022.
Lastly, the company also revealed it would be expanding into more European countries. With the Norway expansion already underway, NIO now has its sights on Denmark, Sweden and Germany.
Lastly, let's not forget the NeoPark, where NIO will begin to produce its cars as soon as the third quarter of 2022. This EV facility is set to have a production value of 500 billion yuan per year.
When all is said and done, there are few EV companies out there with such a clear growth plan. NIO has a strong presence in China and is rolling out quickly in Europe. Its cars are, from a technical perspective, some of the best EVs available, and the CEO William Li has a clear understanding of what consumers want.
Watch Out For The PBOC
On top of that, we also have to consider what 2022 will bring in terms of monetary policy and economic growth. The stage is set for an interesting 2022. For once, we have the Federal Reserve tapering its QE program, and we have seen the yield curve flattening in the last month.

Source: St Louis Fed
In prior years, this has been an indication of a recession. However, NIO doesn't have business in the USA, so even if this were the case, the company wouldn't be so affected. What's more important, perhaps, is how demand will develop in China. The economy there is expected to slow down, though GDP growth could be as high as 5.4%. The PBOC, however, is set to diverge from the Fed, with expectations being that the China's Central Bank will be lowering rates.
The monetary easing by China could be a boon to Chinese consumers, who are NIO's main source of revenue. While it is unclear just what will happen in 2022 with China also fighting a deflating housing market and supply constraints. However, the support of the PBOC should alleviate these pressures.
Final Thoughts
In a previous article, I outlined how NIO stock could reach $84/share, based on simple P/S ratio analysis. At today's price, that represents over a 200% return. Given that the fundamental picture hasn't changed, I still believe this price target is realistic. NIO's current price is attractive, and investors should consider adding this stock. A position in NIO is a great way to complement a well-rounded and diversified portfolio. There are risks associated with CCP regulation and the overall economic outlook, but the potential return at this point is too high to ignore.
Author: The Value Trend, Seeking Alpha